Helena María Viramontes
March 12, 2015
For our innaugural event, Helena María Viramontes (Professor, Cornell University) packed CSULB's University Theatre with almost 400 attendees. Another 100+ people attended her reception, and she conducted a creative writing workshop with 20 CSULB students.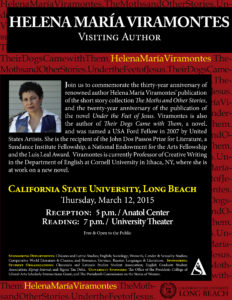 The event coincided with the thirty-year anniversary of Viramontes' publication of the short story collection The Moths and Other Stories and the twenty-year anniversary of the publication of the novel Under the Feet of Jesus.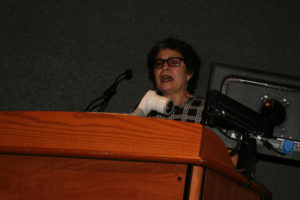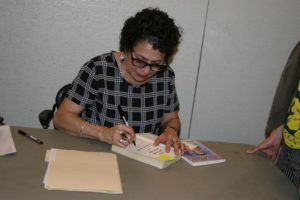 Sponsoring Departments: Chicano and Latino Studies; English; Women's, Gender and Sexuality Studies; Sociology; Comparative Literature and Classics; and Romance, German, Russian Languages and Literatures.
Sponsoring Student Organizations: Chicano/o and Latina/o Studies Student Association; English Graduate Student Association; RipRap; and Sigma Tau Delta.
University Sponsors: The Office of the President; College of Liberal Arts Scholarly Intersections Grant; and the President's Commission on the Status of Women.